Touching Down in Stanford
Millikan Varsity Football starting quarterback and QUEST junior Myles Jackson is all set for life after high school. He will be playing division one college football at Stanford University after being offered a scholarship in November of 2022.
 "Going to Stanford has been a dream of mine," says Jackson. "Playing football all these years has been an incredible journey but it wasn't easy."  
He added on, "The work that goes behind the scenes makes it even more worth it when you get an opportunity to go to your dream school."
Jackson has been receiving football scholarships since his freshman year. He got offers from schools including San Jose State, Brigham Young University, Texas A&M, University of Oregon, and many others. However, when he got that offer to play for Stanford, he knew that it was going to be the school he would choose.
"Stanford and USC were my dream schools growing up. Watching Andrew Luck, Christian McCaffery, and Chris Owsu (all Stanford football alumni who've gone onto play in the NFL) play was great to watch as a kid. Stanford athletes are exemplary people on and off the field and I wanted to be a part of that," says Jackson.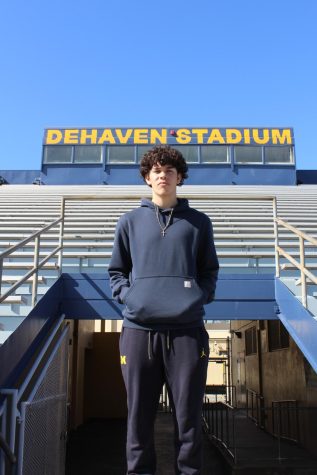 Jackson had quite the year this past varsity football season. On his Stanford player profile it says as a quarterback he totaled 3,620 passing yards with a 67% completion rate and 47 passing touchdowns. He now holds the record of the Moore League single-season passing yards and passing touchdown records and was named 2022 Moore League offensive player of the year.
With this huge opportunity and the help of a few extra academic credits, Jackson has been reclassified to class of 2023 and will be graduating this year instead of next year in 2024. 
"Graduating early was something I prepared for since my freshman year, taking extra classes just so I could be ready to take on an opportunity like this," says Jackson.
Besides football, Jackson has huge and exciting plans for being a student at Stanford. "I look forward to getting my business degree while at Stanford and partaking in internships related to commercial real estate and venture capitalism. In the coming months, I plan on announcing my non profit organization aimed at helping the youth in my community," Jackson says.
With the departure of Jackson from the football team, Millikan finds themselves short of a star offensive weapon. However, they will go into next season with hopes of being another top Moore League team. Click here to view the 2023 varsity football schedule. With the addition of a summer trip to Hawaii, the next season is shaping up to be very exciting.