Bluey Barks Into Our Hearts
The Bluey phenomenon has taken the world by storm. Babies, toddlers, and — to the surprise of even the show's creators — teens and adults, have fallen in love with the Heeler family.
Bluey is an Australian preschool-targeted animated series funded by the Australian Broadcasting Corporation. It follows a family of dogs, including the main character Bluey, her sister Bingo, their dad Bandit, and their mom Chili. The series was the 4th most popular streamed show on Disney+ in 2022.
What makes "Bluey" stand out from the crowd is its popularity with teenagers and adults, many of whom don't have children of their own.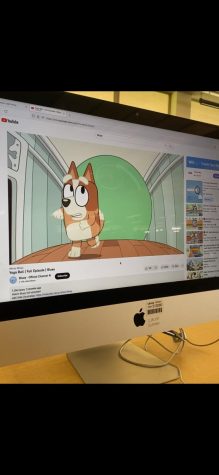 COMPASS freshman Lorelei Brennan says, "Bluey is both very kid friendly and I think it helps adults and teens feel understood."
The show's popularity with adults is attributed to how it tackles more mature issues.
"I think the reason Bluey is so impactful around the world and towards all ages, including myself, is because it is such an authentic show," says COMPASS senior Alexandra Talevera. "It depicts the joys of childhood in such an innocent way all while providing kids and older with such valuable lessons." 
Bluey's TikTok hashtag has currently generated over 3.6 billion views. The series has over 4.6 million plays on ABC iview, the Australian government supported streaming service.