Han Atrapado al Ratón
Joaquín Guzmán, better known as El Chapo, is a drug lord who has been sentenced to life in prison. Less famous are his four sons who also help run their business. Rather than playing catch or watching a movie, this family's bonding time is spent running one of the most powerful narcotic trafficking organizations known as the Sinaloa cartel.
One of these sons, Ovidio Guzmán, nicknamed, "The Mouse," was arrested on Jan. 5 in Culiacan, Sinaloa, Mexico for being the biggest trafficker of fentanyl and the alleged leader of this business. This arrest has sparked much interest and perspectives as to why the arrest happened and what the next steps should be. He was transferred to Mexico City and is currently held in Altiplano maximum security federal prison.
In Oct. of 2019, Ovidio was arrested, but was quickly released by President Andrés Manuel López Obrador in an attempt to stop the cartel bloodshed occurring at the time.
More Recently on Jan. 5, the alarming incidents have reappeared. PBS NewsHour concluded that violent patterns arose as ten soldiers and 19 cartel operatives were killed in Sinaloa when various gunmen opened fire on troops. Following this, the army sent Blackhawk helicopter gunships to attack cartel vehicles which resulted in 17 police officers and 35 military personnel that were wounded, along with the death of one police officer. The cartel then started to attack fixed wing military and civilian aircraft, as well as shooting up the airport in an effort to stop authorities from transferring their leader into Mexico City.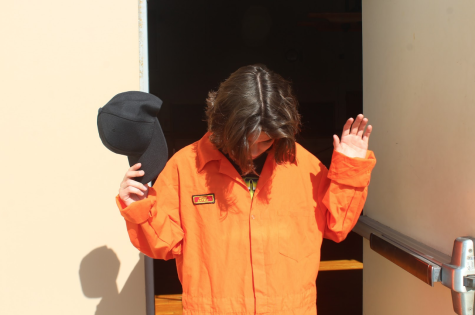 This havoc occurred days before President Joe Biden and Canadian Prime Minister, Justin Trudeau visited Mexico City for the North American Leaders Summit to discuss various topics having drug trafficking along with immigration as a top priority. An associate professor at Syracuse University, Gladys McCormick told CNN in an email, that he felt the arrest was an attempt in showing the United States that he had control of his country in every aspect.
Out of 20 randomly selected Millikan students on Feb. 2 during lunch, 70% felt that letting Guzman free was the best option to prevent all the destruction. The other 30% were on board with the arrest and figured the deaths were only a small price to pay.
QUEST sophomore, Diego Castillo believes that Ovidio Guzmán should stay imprisoned.
"Obviously his arrest is causing serious issues, but I think you can't really release him because that's just defeating the whole purpose of arresting him," he said. 
SEGA junior, Victor Lamas disagrees. 
"The life of any person, let alone various people is more important than detaining a drug dealer because drugs will never just disappear," Lamas said
Either way, Ovidio and his family continue to cause destruction throughout the world. Their family's future is unknown and many other families are fearing for their lives, or fearing the lives of others. It is a dangerous time, stay safe.