A World Cup Like No Other
Let's play fútbol! The 2022 FIFA World Cup ended with Argentina winning it all, beating France in the final on penalty kicks in front of 88,000 fans at Lusail Stadium. It was considered the greatest World Cup final in the tournament's history.
This year's tournament took place in Qatar, the first Arab country to host the World Cup. The event is usually hosted during the summer from mid June to mid July, but due to the major heat waves during the summer in Qatar, the tournament ended up happening from Nov. 20 to Dec. 18.
"Traditionally I do not like that the tournament was held in the winter rather than the summer.  It is in the middle of the players' club seasons so there were more players than normal that were injured and not able to play," says Millikan boys soccer coach Jeffery Schofield. 
"The team that I was rooting for in the World Cup was Mexico. They got knocked out of the group stage and I really am not surprised by their performance," says COMPASS junior Lizette Catalan.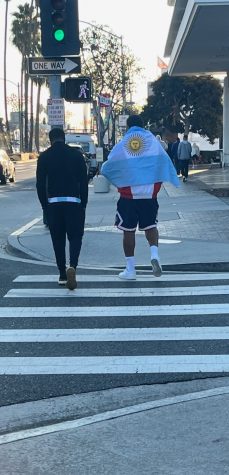 With thirteen European teams, five African teams, four South American teams, four North American teams, and five Asian teams who qualified, the World Cup was filled with many talented soccer players all over the world.
Qatar was able to win the bid to host the tournament back in 2010, they won the bid over countries like the United States, Japan, South Korea, and Australia. Before Qatar placed a bid, the sport of soccer was basically non-existent in the nation; there was no national team, no professional league, and no stadiums. Ever since they secured their bid back in 2010, the government had been working to create a football federation for their nation and they finally put that team on the field at this tournament.
There were some underdog teams that did really well. The United States made a triumphant return to the World Cup after failing to qualify for the last World Cup, making it all the way to the round of sixteen. 
Taking place in an Arab country for the first time and not being played in the summer, this World Cup was like no other. We can't wait for 2026 when the tournament will be back during the summer in North America!