Saying Bye to BTS
UPDATE: April 19th, 2023, 11:01 AM
Following in Kim Seok-jin's footsteps, BTS member J-Hope has become the group's second member to commence their mandatory military service. J-Hope is soon set to begin his five-week training in the Gangwon province. 
⎯⎯⎯⎯⎯⎯⎯⎯⎯⎯⎯⎯⎯⎯⎯⎯⎯⎯⎯⎯⎯⎯⎯⎯⎯⎯⎯⎯⎯⎯⎯⎯⎯⎯⎯⎯⎯⎯⎯⎯⎯⎯⎯⎯⎯⎯⎯
BTS, South Korea's K-pop supergroup of seven boys, has recently delivered its worldwide fan base with dreaded news: As of Oct. 17, Kim Seok-jin, the eldest member of the supergroup, announced his official enlistment in South Korea's military. 
In order to fulfill the country's mandatory service requirement, Kim Seok-jin will finally enlist at the age of 30, two years after the maximum age requirement of 28. Due to issued exceptions, South Korea has allowed the performer to pursue his career for two years after his intended enlistment. Soon to follow, all remaining members will act accordingly through their own enrollment. Each is anticipated to serve a total of two years and is projected to reconvene as a group in 2025. 
Many diehard fans are anxious as they must patiently, yet eagerly, await the return of their most beloved K-pop group. This absence has even rekindled debates about potential military exemption and discussions of the impact their hiatus will have on South Korea's economy.
According to a CNBC.com article, Kate Sammer states, "The impact of BTS's military service is likely to have economic consequences, as data suggests BTS is generating an estimated $3.9 billion in economic value per year towards the South Korean economy."
BTS's success has even generated an immense influx in the nation's rate of tourism and consumer spending.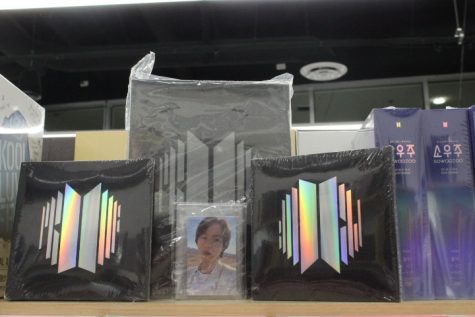 Based on the estimates published by Hyundai Research Institute, BTS is accountable for every one out of 13 tourists who visited South Korea in 2017. Additionally, they are responsible for producing a revenue worth 1.1 billion USD in merchandise and cosmetics. 
Despite economic consequences and a lingering hope for military exemption, COMPASS senior Alexandra Talavara perceives BTS's enlistment as an honorable act. 
"The government wanted to potentially exempt them so that they could make more money from them [concerts, award shows, etc.], and BTS fired back at the Korean government by choosing to go," she states. "BTS deciding to follow tradition and go to the military is an admirable thing to see; they won't let the government, let alone anyone control them."
As for the near future, time will truly tell what everlasting impact BTS's enlistment will have on their nation and global fanbase.