Commend or Cancel Colleen Hoover?
Enthralled by her countless hits, Colleen Hoover, a New York Times bestseller author of twenty-two novels and novellas, has certainly captured the attention of many avid readers. Hoover has long since dominated the new adult and young adult romance genre with novels such as "It Ends With Us" and "Ugly Love." Her diehard fans have triumphed over #BookTok with endless praise of her work.
This fan frenzy has even resulted in the shutdown of Z-Library, a beloved website that provided students, scholars, and bookworms with free digital ebooks. The site was closed down as a result of her fans posting TikTok's about it. Hoover has generated controversy due to consistently using trauma as plot points. All things considered, I am deeply invested in unveiling whether or not Colleen Hoover truly deserves such admiration. 
To fully grasp an understanding of her work, I evaluated three of her most acclaimed novels; "It Ends With Us," "Ugly Love," and "November 9." Despite only reading "Ugly Love" while researching  "It Ends With Us" and "November 9," I believe I have read more than enough. The borderline cheesy and unrealistic dialogue in "Ugly Love" instantly veered me away. The prose of "Ugly Love" reads more like a subpar first draft rather than a published novel. 
As for "It Ends With Us" and "November 9," Hoover allegedly exhibits a knack for inserting trauma as storylines. Her plots are supposedly filled with excessive themes of sexual assault, toxic masculinity, and abusive relationships. Additionally, the identities and personalities of her main characters seem to solely revolve around their trauma. 
According to a TIME.com article, Naomi Torres-Mackie, a psychologist at Lenox Hill Hospital and head researcher at the Mental Health Coalition, stated, "When trauma is absolutely central to a character's existence, it can be dehumanizing and parallel what happens in real life- when we learn about somebody's traumatic past, and what they have to fear, that's all we see. That's very unfortunate because, of course, trauma survivors are full, multifaceted humans."
Hoover's novel "It Ends With Us" follows Lily Bloom, a college graduate who moves to Boston to open her own flower business. The story surrounds Lily's journey of navigating her relationship with Ryle Kincaid and her re-encounter with Atlas Corrigan. It thoroughly explores her childhood of being raised in an abusive home. In the midst of the novel, it is revealed that Ryle physically harmed Lily during an argument.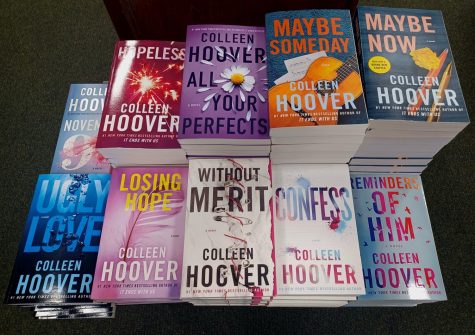 In the article "Cancel Colleen" by Kelly Schwint, she states, "Hoover uses violence for its shock value, rather than addressing it with any real substance. Not only does this invalidate people's experiences, but it belittles them too." 
Commenting on "It Ends With Us," COMPASS senior Eliz Barsikhian said, "Everything was so outdated and you can tell it was an older adult trying to write about how young adults actually act. Also what was really frustrating is that Lily, the main character, didn't even heal after the abusive relationship and she just jumped into another one. There is nothing realistic about her healing process and her abuser didn't even take accountability for his actions."
Despite all of this information, Colleen Hoover is not listed in the American Library Association's yearly top 10 most challenged books list. While Hoover's novels are controversial, they are not considered sensitive by the opinions of various librarians. Therefore, her stories are not censored and can be available for selection in school libraries. 
Ms. Hayes, Millikan's librarian, confirmed that our school does not carry any of Hoover's novels. She suggested that it can be solely due to the district's selective process of choosing books based on merit.