Teacher of the Year!
Millikan's very own Lee Underwood was named Teacher of the Year by the Long Beach Unified School District. Underwood was also one of 66 teachers countywide, recognized as Teacher of the Year by the Los Angeles County Office of Education on Sept. 23. 
Mr. Underwood is the AP English Literature teacher who has been teaching at Millikan for almost 17 years.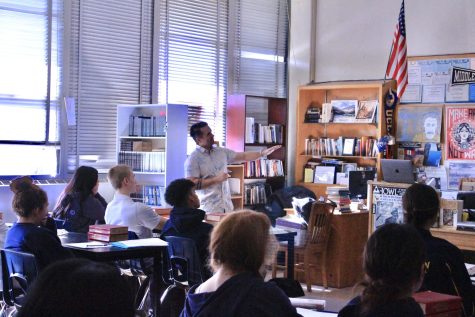 Unfortunately, he does not know who nominated him for this award, but he has his own beliefs as to why. 
"I'd like to think it's because of my amazing Dad jokes and impeccable fashion sense," said Underwood. Though he said this jokingly, his students do appreciate his humor and his style of teaching. 
"He always finds a way to make jokes in all of his lessons, even the more difficult ones," says PEACE senior, Kenzy Becerra. 
Becerra enjoys his way of teaching and the classroom connections that he creates as well as how his lectures about the materials provide the students with deeper understandings by framing them in a way that is easy to grasp. 
The appreciation goes both ways. 
"It's all about my students," says Underwood. "They drive everything I do, from how I design my lessons, to how I set up my classroom, to how I engage with them."
He looks at his relationship with his students, as they are the bosses, and he works for them.
"I see it as my responsibility to provide them the best education I can give them, every single day," says Underwood. 
As well as all his students, Mr. Underwood also shares this achievement with all the teachers who work hard every day, often in challenging situations. 
"I know others out there deserve this as well, so this is also for them," says Underwood.
But of course, the students and their opinions shape the teacher. 
"I think Mr. Underwood is an excellent teacher," said Becerra, "He is hands-on, caring, and passionate about teaching." 
Mr. Underwood appreciates his students for everything and credits them with making him the teacher and person he is. "My students are a constant source of pride, of humor, of awe, and provide for me moments to reflect on my own life too!"