Why People Are Ticked Off at Ticketmaster
Concerns of Live Nation Entertainment commanding a monopoly were brought to light on Nov 15 when a pre-sale for "Taylor Swift | The Eras Tour" began. As of Nov 18, 2022, the Justice Department has opened an antitrust investigation on Live Nation Entertainment Inc.
According to Ticketmaster, a record-breaking number of bot attacks launched 3.5 billion system requests onto the website. Consequently, several customers endured a long and stressful wait in the queue to purchase tickets.
"I knew I had to do everything in my power to prepare," Maddy Mlouk, QUEST senior, said while describing her experience buying tickets for Swift's tour. "The way that [Live Nation Entertainment] handled the situation was so poorly done for the size of their company."
For decades, Ticketmaster has been the go-to website for buying event tickets. In 2019,  their annual report revealed an astonishing total sale of 486.5 million tickets for that year. Live Nation, a venue operator and artist manager, merged with Ticketmaster in 2010 to form Live Nation Entertainment Inc. Ever since, economic activists have been suspicious of whether the company has too much control over the event industry.
A monopoly occurs when a company has "complete control over the prices of goods and services," Mr. McWhorter, teacher of AP Human Geography, AP Macroeconomics, and AP Government, explained. Live Nation Entertainment's potential monopoly is crucial as they wouldn't "have to be responsive to consumers' needs so much," McWhorter continued.
As reported by the New York Times, the Justice Department declared in 2019 that the corporation allegedly broke their merger contract by threatening to drop concert venues if they did not use Ticketmaster. Live Nation Entertainment denied these claims.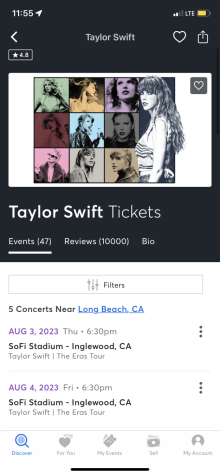 Nevertheless, the Justice Department extended their agreement until 2025 and altered the wording of the contract to reiterate the company's restrictions. 
The Biden Administration has been working hard to implement stricter regulations on big businesses. 
Unfortunately, people are left with few other options to attend their favorite artists' concerts, making a boycott near impossible. On December 9 and 10, Bad Bunny performed at Mexico City's Estadio Azteca, Latin America's largest stadium. However, according to the New York Times, the floor, planned to be jam-packed, was left half empty. More than 1,600 fans were told their tickets, purchased through Ticketmaster, were invalid and were refused entry. The president of Mexico is hoping Bad Bunny will return and play for free, but the musician has not responded yet.
Whether it is a tyrannical monopoly or simply bad customer service, everyone should be aware of Ticketmaster and Live Nation as they may have the sole power to hike up ticket prices.