Teacher Features: Ms. Cuevas and Ms. Maconochie
Welcome back to another introduction of Millikan's new staff members. This issue we will learn about  Ms. Cuevas and Ms. Maconochie.
Starting off, Joslyn Cuevas is the new English 3-4 QUEST teacher. She is very bright and uplifting with a very comforting spirit. She enjoys teaching 10th grade, and finds her students to be very interactive and intelligent with a great sense of humor.
Cuevas's favorite part about Millikan so far is the sense of belonging and community that this school brings. "It has been inspiring to see so many people proud and dedicated to their school," she said.
Cuevas found an interest in law. She initially studied English and though she considered law school, coming from a line of teachers, they persuaded her into pursuing the world of teaching. She attained her credentials and Masters Degree from Loyola Marymount University. 
Cuevas started in the Los Angeles School District for four years until she moved to LBUSD where she began to teach English at Hughes Middle School.
A piece of advice she would like to offer is to always wear your bike helmet. She became largely aware of the significance after crashing her bike into a pole while going approximately 20 miles an hour, almost losing her life. 
On that note, Cuevas would like the school to know that she is honored and excited to be a part of Millikan and the journey's of many students. 
Not only does this next teacher wear their helmet, but she is even a certified Crossfit coach. 
"If anyone ever wants to workout, let me know," said Maconochie.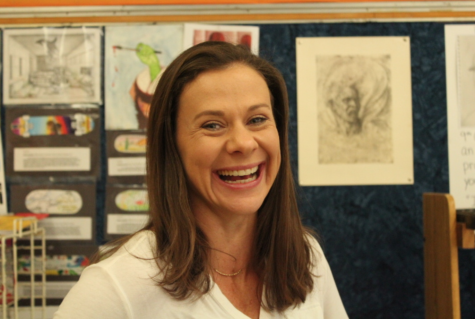 Cari Maconochie, is an Art 1-2 Foundations teacher. She has been teaching Intro to Art for nine years and loves it.
"It is so rewarding when students discover talents they didn't know they had," Maconochie stated.
Her main focus is on a growth mindset and boosting her students' confidence. She has found many admirable things about this school including the staff, students, and the variety of classes offered to students. 
She was very happy to find that Millikan had a football team, seeing as her previous schools did not. Her last memory of watching a football game was while she was a student at her very own highschool. The food, the cheers, the band, all things Mrs Maconochie loves about football games. 
"It really brings a sense of community," said Maconochie.
Maconochie received her Art Education and Fine Arts Degree at the University of Virginia. Her career kicked off teaching at a middle school in Virginia. After five years there, she moved to California where she taught at two different charter schools. This is now her fifteenth year of teaching.
She loves to collaborate on project ideas that align with the curriculum.
Be sure to say hello if you see them wandering around campus and come back next issue to continue to learn about two more of our amazing new staff members.