Love On Tour 2022
British male music artist Harry Styles, has just wrapped up his 2022 U.S. tour, "Love on Tour 2022". This tour was to help promote his new album "Harry's House", which came out in May of 2022.
Harry Styles only went to New York City; Austin, Texas; Chicago, Illinois; and Los Angeles, California. He did a total of thirty seven shows throughout those four cities, with appearances from artists Madi Diaz, Blood Orange, Gabriels, Jessie Ware, and Ben Harper.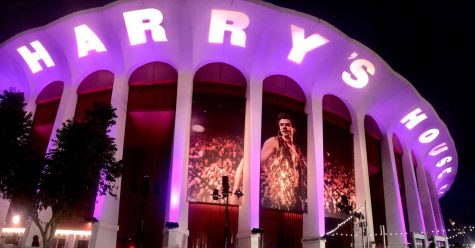 Originally Styles was scheduled to perform fifteen shows in New York, five shows in Austin, five shows in Chicago, and fifteen shows in Los Angeles. However, he had to postpone three shows in Los Angeles, Nov 4, 5, and 7, due to coming down with the flu.
 "Until very recently I haven't had to postpone a show due to illness in the 12 years I've been touring," said Styles in an Instagram story posted on Nov 5, "I'm so sorry to do it, and if there was any way I could do the show I would." 
The November postpone dates were rescheduled to Jan 26, 27, and 29, 2023. Every other show played as planned. 
"I can't wait to see you then, and I'm so sorry, " said Styles.
Music teacher Cindy Luu-Campos knows a lot about having to miss performances due to illness.
"It's actually very common to us musicians nowadays, and it's such a troubling obstacle because musicians, especially one like Harry Styles, have lots of responsibility behind our performances," says Luu-Composs.
Avid Harry Styles fan, PEACE junior Kaitlyn Altamirano, went to three shows at the Kia Forum: opening night on Oct 23, the Halloween show on Oct 31, and the closing night on Nov 15. 
"Going to these shows was amazing, I felt in shock," says Altamirano, "It felt like he wasn't a real person." 
Love on Tour 2022 turned out to be quite a success for die-hard fans.  Looking forward to the next time Harry Styles performs in the U.S.