GOOOOOAARLS Soccer
Kicking into the new season, officially starting at the beginning of December, is the Millikan girls soccer team, led by captains COMPASS senior Sydney Trump, and QUEST seniors Sierra Sythe and Keira Ashworth, as well as head coach, Tino Nunez. 
The girls are returning after losing their three-year Moore League win streak last season but are ready, this year, to reclaim their title.
The Rams are also facing the loss of a big senior class of 2022 and are looking to fill in all the holes left behind. But that is no feat for these girls. 
"Every season we add and lose new players," says Nunez, "This creates a different
dynamic and also creates opportunities for new and returning players."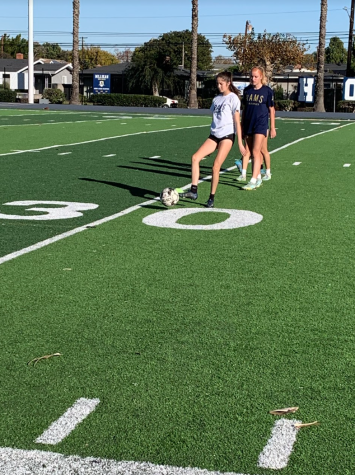 The goals for this season are to win a tournament, win Moore League, and make a run in the CIF (California Interscholastic Federation) playoffs, according to coach Nunez. 
Another major goal for the senior captain, Sydney Trump, is to connect with the team and have a fun, hardworking, season, "I want this season to be fun for everyone, but also work hard for the goals we want to accomplish as a team." 
This team of Lady Rams know that they can accomplish every goal they have for this season. 
"We have a great group of student-athletes who are hungry to compete and accomplish goals together," said Nunez. 
The team is preparing to enter the season with scrimmages and pre-season games, allowing them to make any changes necessary for when their official CIF, and Moore League seasons start.
"I feel really excited to play with all these amazing girls and just crush it out there," says Trump, "This season is going to be a good one."