Millikan Cheer
It's football season, which means that the Millikan cheerleaders will be at Millikan football games to support the team! They also participate in cheer competitions which happen in January. During the games, cheerleaders perform their dances, salutes, and tumbling. They feed off the energy of the audience in the stands, which gives them the confidence to go all out.
"I'm most looking forward to homecoming week. I'm really excited for the football game, carnival, and dance," says MBA freshman Chloe Vergara, a member of the Junior Varsity Cheer team.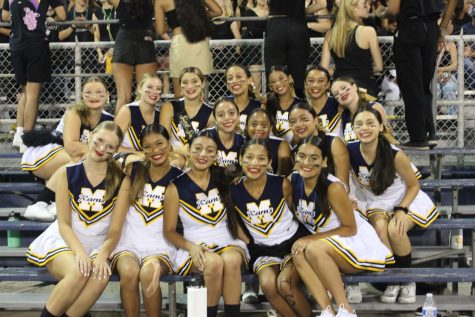 Before all their incredible performances, they work extremely hard at practice and perfecting their stunts and rehearsing all of their dances. Practice happens every blue day during sixth period in the small gym. Both bases (cheerleaders who hold up a flyer) and fliers (cheerleaders who are held up in the air) must stay in shape, just like any other sport. Despite having to work very hard, they still have a lot of fun picking up new skills.
There is a google classroom students can join to tryout for cheer next year. Cheerleaders will put up flyers around the school at the end of the year for more details about 2023-2024 tryouts. Anyone interested in keeping up with this year's cheer events such as the Madd walk and the Millikan alumni celebration should follow Millikan Cheer's Instagram account!