New Coach Makes a Big Splash
The Millikan Aquatics Program has gone through many changes since the 2021-2022 school year. The Millikan boys Water Polo and Swim coaches, Nicholas Beavers and Danely Smith, unfortunately had to step down from their positions for unknown reasons, leaving the team out of the water.  
As of June 2022 the new head coach is Randy Wright. He has come ready to take on anything that comes the team's way. Most of the varsity team graduated in 2022, but Coach Randy and all the players are willing to put in the work, time, and effort needed to make it one of Millikan's best seasons yet.
"The hardest part of this transition has been the lack of bond between the players and the coaches, but we've been trying to be as optimistic about our capabilities regardless of our losses. Additionally I'm looking forward to working with Coach Wright for the next few years since it is evident that he is doing everything possible to improve our program" says varsity player Mazen Mendoza, a sophomore in QUEST.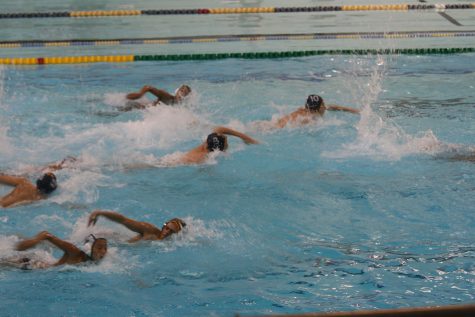 Coach Randy has partnered with co-coaches Kyllen Carlson and Will Arnsparger to lead the team and make this transition as smooth as possible.
"Changing culture and establishing a new foundation is never easy," says Coach Randy.  
In efforts to make this a great season he is taking a different approach when selecting players for the games. He believes that coaches should not only play to win games, but to win a title. He knows that this year the team is not ready for a title but they are taking the steps to reach the top.
"This season we are starting two freshmen, three sophomores, a senior, and three to four juniors" continues Coach Randy. 
 Although their journey together has just begun, the team is ready to fight anything that comes their way. The team is keeping their hopes high and their worries low, but more importantly they are working together in order to keep the team as united as possible.