Color Guard Spins History
From spinning flags to tossing sabers, Millikan's Colorguard team has launched their way to the top with a preliminary and finals victory. At Ocean View High School on April 23rd, the team performed in various preliminary rounds before securing a second place medal. Again on April 23rd, they advanced towards the WGASC finals competition where they made Millikan history by performing at the UCI Bren Center and placing fourth out of 40 other participating teams.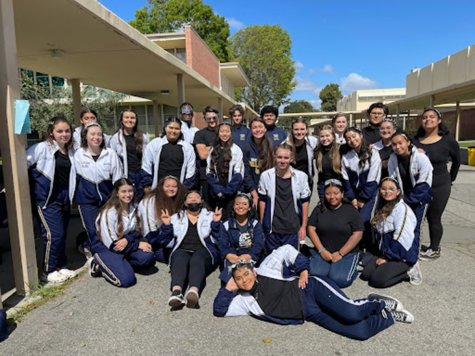 The Rams qualified for the WGASC finals competition under the scholastic AAA division with their performance piece titled "Zephyrus Goddess of Four Winds." The piece begins with movements portraying light small winds. Sounds of wind chimes can be heard signaling the relaxing breeze. At the conclusion of the performance, the music intensifies to represent the creation of a brewing storm.
"I think our show was very creative, unique, and challenging," says Jacquelyn Romano, co-captain of the team and COMPASS senior. "It helped us to stand out against our other competitors and ultimately led us to being very successful."
Leading up to their historic moment, the team poured endless hardwork and effort into perfecting their show. They persevered through only having seven returning members by rising to the occasion with this memorable achievement.
"I'm so proud of the fact they made it this far," states Darius Parker, coach of the color guard team. "The 22 new kids and seven returning members came in very strong and were able to do what I asked them. They all took a chance and stepped up to the plate."
Reflecting on the victory, Romano went on to say, "Everyone worked so tirelessly by putting their heart and soul into the show. I couldn't have been luckier to have witnessed it!"
The accomplishments fulfilled by the team are a symbol of the love and passion they harbor for the sport. It is a triumph for both the color guard team and Millikan's community. It is an everlasting win that shall remain in the hearts of the athletes and the history paved here!