Gold Robbed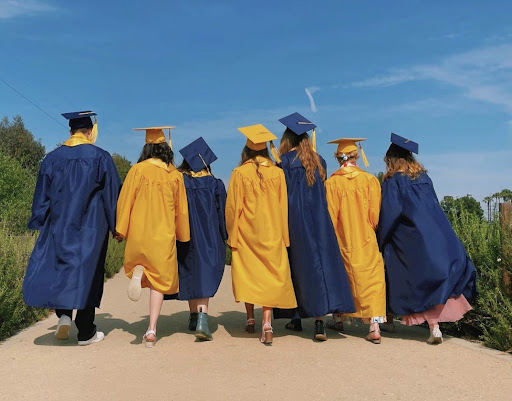 As the end of the school year approaches, the main thing that's lingering on senior's minds is of course GRADUATION!! Congratulations to all our seniors, especially to those seniors who got all A's every semester they've attended Millikan, and now are getting gold robes (the 4.0 award). To those seniors who barely missed getting gold robes because of one silly B, despite taking four years of AP's and accelerated classes, you just missed the mark.
I understand that the gold robes are to encourage students to keep up all A's, but it could also discourage students from taking challenging courses at the risk of losing their gold robes. 
It is not fair that students who take the "easy" path to all A's can walk into graduation in the same golden robes of the students who studied and worked so hard for the past four years to achieve a GPA higher than a 4.0. Or that students who miss one single A, but still had a 4.3, or even higher, have to walk in blue robes. 
"If the gold robe is what is most important, then they have the right to choose courses to help them reach that goal," says QUEST counselor Mrs. Barrgan. "If the goal is to apply to competitive colleges, then no [taking easier classes is not encouraged]."
Gold robes are not the most important thing to have for college, they're more of a novelty award for people who have gotten all A's. They're not nearly as impressive as the numerous AP's available at Millikan. So, instead of encouraging students to only get a 4.0, Millikan should start encouraging students to get higher GPA's. 
"While GPAs are important in college admissions, so is rigor and preparation," says Barrgan.
If the gold robes were based on having a certain GPA or higher, students would be encouraged to get good grades in more challenging classes. Instead of taking classes for easy A's and getting simply a 4.0, gold robes should be for students who have taken AP's and accelerated classes in order to get higher GPA's. 
Let's encourage students to take challenging classes, and reward them for it.