Mr. Morale & the Big Steppers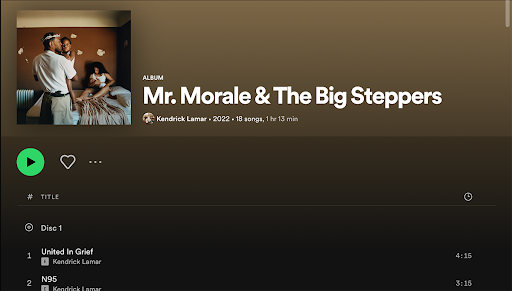 FINALLY! After five whole years of patiently waiting, Kendrick Lamar has dropped a new album called Mr. Morale & the Big Steppers. Lamar announced this album on April 18 after a user on Twitter jokingly said, "Kendrick Lamar is officially retired." 
Lamar himself, replied to that tweet with a link from his website, oklama.com that had an image from his own service company called pgLang stating that Lamar's final studio album called Mr Morale and the Big Steppers released on May 13. Lamar is widely known for his incredible storytelling and lyricism. He is also known socially as one of the most influential and greatest rappers of all time.
Lamar has released many other studio albums (which is newly written music in a recording studio) such as: Section.80; good kid, mAAd city; To Pimp A Butterfly; Untitled Unmastered, and DAMN. On May 8, Lamar dropped a single before Mr Morale entitled The Heart Part 5 (which was not on the album) where in the music video, Lamar was rapping behind a red wall and his face was shapeshifting into celebrities who have been "canceled" due to cancel culture, such as: OJ Simpson, Nipsey Hussle, Will Smith, Kobe Bryant, Kanye West and etc.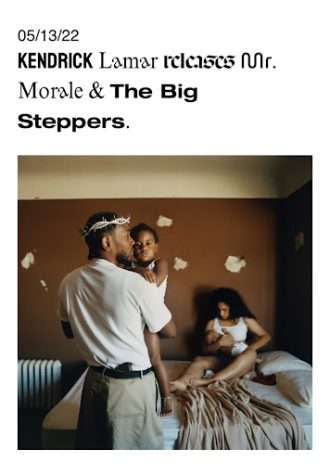 The lyrics went into depth about other peoples' viewpoints. Lamar posted on his Instagram page with a photo that says, "I am. All of us." In a Genius analysis of the lyrics for The Heart Part 5, Lamar states that pain is something that should be respected in order to let the healing process truly begin. When Mr Morale released at midnight on May 13, social media was flooded with excitement. The official audio for the songs were also released at midnight on the 13 on Youtube and they were already getting thousands of views. 
Only a day after the album was released, social media was flooded with an album review and gave it mainly mixed reviews. SEGA ninth grader Ahmad Sanford says, "What makes a good rap album is the lyrics and the message you bring to it." Sanford continued, "His new album wasn't the best, but Kendrick is a top 10 rapper of all time." Sanford also likes Kendrick's flow, the energy he brings into his songs, and his creativity. 
This album is easily Lamar's most experimental album, where he talks about topics from homophobia and the LGBTQIA+ community. In the song Auntie Diaries, his aunt is a transgender woman who everyone in the family treats awkwardly, while Kendrick sees the opposite and accepts his aunt. 
This album also features Kodak Black, Baby Keem, Summer Walker, and etc. TikTok and Twitter users were even calling it the worst of Lamar's discography. Others liked the album and thought that it was worth the five year wait. This is definitely an album where you have to let it sink in and give it another listen or two.  There are a few songs on this album that are really experimental where Kendrick uses different tones of his voice that you just wouldn't expect on a Kendrick Lamar album.