Policy of Truth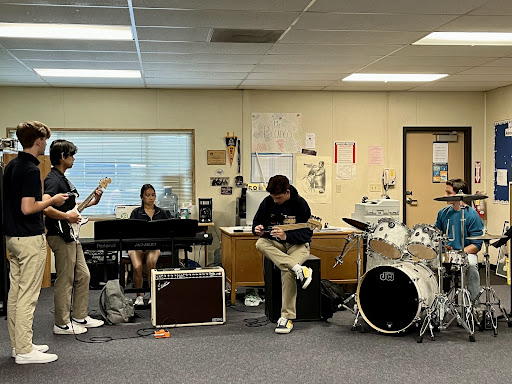 Millikan is bursting at the seams with talent, stemming from computer scientists all the way to phenomenally talented student bands. You may have heard this band play before at the 562 Night Market that took place on May 26, Backstage Bistro, rallies, or one of their private backyard parties, but Policy of Truth is undeniably one of the most talented student bands our school has ever seen. 
Policy of Truth is an alternative band currently focusing on 80's and 90's pop rock to connect better with a wider variety of people, but they hope to move into a wider variety perhaps including some original songs or some music from the 60's. Currently they're practicing covers on titles such as "Hungry Like the Wolf" by Duran Duran, "You Really Got Me" by The Kinks, and "Pompeii" by Bastille.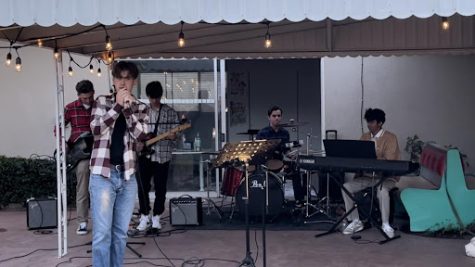 QUEST junior Jake Ritter, who is now the band's vocalist and organizer said that QUEST junior Ethan Emami was the connecting point between him and the rest of the band; Ethan knew QUEST junior Karina Papini, COMPASS senior Ben Williams, and COMPASS junior Mason Calimquim from Millikan's jazz band, who he then connected to Ritter when they first proposed the idea of starting a band together. 
Ritter and Emami had previously met in a class during their freshman year and proposed the idea of starting a band together after Ritter saw another school band (now known as Beach Drive) perform here at Millikan in his freshman year (2019-2020). Music was a big part of each of their lives, and seeing students actually go out and play together gave them that last bit of motivation they needed to actually make this idea a possibility. 
The idea actually started to become a real thing when they returned back to school in the beginning of the 2021-2022 school year when the band started coming together in the jazz room to practice together. Emami became the band's bassist, Papini was on keys, Calimquim played lead guitar, and Williams was keeping the beat going on drums.
The band met their second pianist and auxiliary man at their first show in February of 2022, SEGA junior Jon Vital, who the band decided they had to have as part of their crew after he showed his obvious skill on auxiliary.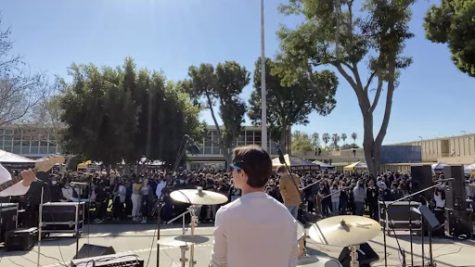 "At first it was less friends than bandmates but now we are all really good friends," stated Emami. Ritter added that he felt nervous and like he was joining an "already fortified group," but that they all immediately clicked and those nerves disappeared.
According to Ritter, the stressful environments they often find themselves in when getting sets together quickly before shows has brought their bond closer together and really benefits their friendship and connection they have as a band. Both Ritter and Emami explained how their connection with each other outside of rehearsal really helps them play better and have good musical chemistry as well. 
"Our key in practice is not so much 'Oh can we play this [well], because [if] everyone [can] see the tabs or sheet music [they] can read it and play it super well–I'm lucky to be in a band with some of the best musicians in the school–but I think that it's all about the instruments jiving and blending and we feel a connection to one another and a certain energy that we want to display on stage."
Policy of Truth has plans to continue the band past high school; they believe in their potential and hope to take their music careers as far as they'll go. The band says that even though Williams will be graduating this year, they plan to practice outside of school and keep the band going.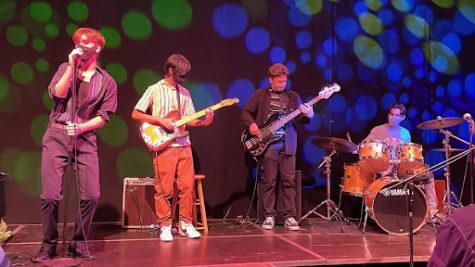 "We were just jamming and Ben was playing some epic war drum sounding patterns and he was saying 'oh imagine how sick this would be in front of a stadium of people,' so that's the long term goal is to just go for as long as we can and get as big as we can because we think we have potential," said Ritter and Emami. "We're confident, we know we're gonna get there." 
If you want to catch Policy of Truth sometime soon, make sure to follow their Instagram to hear about their upcoming gigs or when they're playing next.