Russia's Attack on Ukraine
Feb. 22, 2022 will be a prominent date in history books, as it marks the first day Russia invaded Ukraine. For a little bit of historical background, Ukraine gained independence from Russia during the fall of the Soviet Union in 1991. Russia is attempting to take their independence from them again through means of invasion and military power. Under Putin's direction, the Russian military has been bombing civilians, hospitals, and schools in Ukraine, so much so that over 3 million people are said to have fled Ukraine. 
President Biden responded to these actions by calling Putin a "war criminal," but according to Josh Rogin of The Washington Post, Biden was simply "saying what everyone can see," rather than attempting to open an investigation. Even after President Zelensky called for a ceasefire and openly proposed the idea of peace talks, Putin continued to attack. 
To justify this invasion to his citizens, Vladmir Putin claims that Eastern Ukrainians are technically Russian and "belong in the Russian Empire." This article by Sandra Nispel on the University of Rochester's website references numerous points where Putin has claimed Ukraine to still be part of Russia despite that being factually incorrect. Currently, Putin is claiming that Ukraine is committing genocide against these Eastern Ukrainian people. In an article by Alexander Hinton in The Conversation, Putin said in a televised interview on Feb. 23, 2022 that, "The purpose of this operation is to protect people who, for eight years now, have been facing humiliation and genocide perpetrated by the Kyiv regime."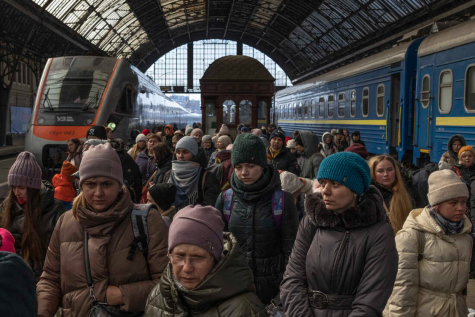 According to Senate Majority Leader Chuck Schumer in a quote found on Aljazeera, the US will be giving Ukraine 13.6 billion dollars for food, medicine, shelter, weapons transfers, and support for the over 2 million refugees who were forced to leave Ukraine. NATO (North Atlantic Treaty Organization) has currently agreed to support Ukraine only through means of economic support and shelter rather than military aid, in an effort to avoid widening the conflict. If any countries in NATO were to intervene in that way, all the countries involved in the organization would have to assist, causing a massive conflict. 
"Unless the conflict widens to include NATO countries, I do not feel US troops should get involved, nor should we enforce a no-fly zone over Ukraine at the moment (although these suggestions could change based on the rapidly evolving situation)," says Millikan's AP US Government and Politics teacher Dr. Russ Rudman.
Millikan's AP World History teacher Timothy Mulvehill agrees, stating that, "the combination of humanitarian and military aid that Congress approved seems to be a reasonable approach to the situation in Ukraine."
"We [high school students] are all aware of [the conflict between Russia and Ukraine], but very few know or understand what is actually happening," says QUEST junior Emma Huynh. "As teenagers, more often than not, we think that we're the center of everything…people just think 'this isn't my problem' and 'why should I care?'" says Huynh. 
She adds that the extent of her knowledge about this major conflict is Apple News headlines, and that usually high school students aren't as informed as perhaps they should be simply because the conflict doesn't impact them. This conflict has expanded so that it now impacts everyone, and it's important to learn about what is occurring in the world so people can make decisions about their own life, as well as figure out how to best support those in need and be sensitive to those who have lost people to this conflict.