Artistry in the Alpert Jewish Community Center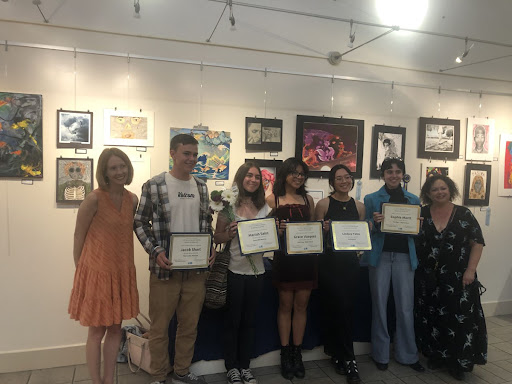 Showcasing wonders of pure creativity and natural artistry, the Alpert Jewish Community Center (JCC) hosted its 37th Annual Norman Gottlieb Student Art Exhibition. Once again, the Gatov Gallery and Long Beach Unified School District collaborated to curate a sample of middle and high school art. The installation was founded by past AJCC President Norman Gottlieb and was available for viewing from Mar 3-31 at the JCC on E Willow st.
Millikan art teachers Mrs. Bailey and Mrs. Ingrid-Palsgrove selected students Jacob Short, Lindsey Yates, Grace Vasquez, Sophia Martt, Lindsay Gurasich, and Mariah Sainz to display their work at the JCC. The exhibit's recognition ceremony was held on Mar. 24 at the JCC where three middle school students and three high school students were presented with various awards. 
Inspired by the portrait paintings of Kehinde Wiley, COMPASS senior Grace Vasquez secured second place with her piece titled "Hidden Royalty." 
"I wanted to channel someone who I looked up to," stated Vasquez. "That ended up being my local street vendors who I translated in Wiley's style."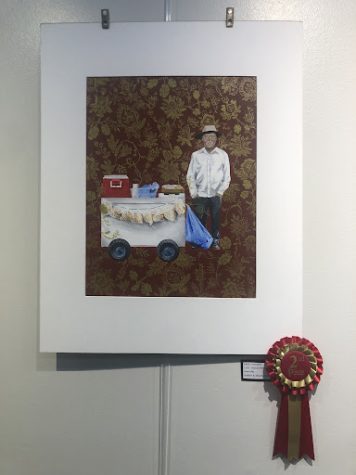 Her painting depicts a street vendor standing beside their cart upon an intricate gold and red background. This opportunity provided by the school has allowed for Grace Vasquez to gain certainty in her artwork. 
"At first I was a little self conscious, I've now learned to have more confidence in myself and my work. It wasn't until I got back the notice of my qualification that I started to believe I could make it this far."
The evening of the award ceremony was filled with a collective appreciation of the artists and their pieces. Attendees were able to bask in the imagination and skills of each artwork. 
"It was honestly really rewarding to see how much the adults and board members seemed to care about the arts," said Vasquez. "It was very inspiring and it definitely sparked something within me."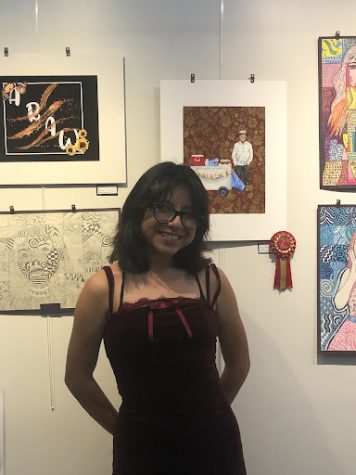 Through the judgment of a committee of board members, Sophia Martt won first place and a $100 gift card to the "Art Supply Warehouse." Grace Vasquez sealed second place and a $50 gift card. Mariah Sainz and Jacob Short received the award for honorable mentions. 
Additionally, Millikan art teacher Mrs. Bailey won the Aspiring Art Educator award from this event.
"The award made me feel very validated in my passions and in how I foster my kids' creativity," said Mrs. Bailey. "My own teaching got seen through the students' artwork. It felt like a win for myself and all of the students." 
Ultimately, this collaborative experience allowed for many to cherish the beauty of the arts and the creative community that comes with it.