Swish to State
The Rams basketball team, led by Seniors Kamaury Washington and Eric Bonales, had quite the year. During their regular season, they had a 5-7 record, but towards the end of the season and through CIF they gained an eight-game win streak until the quarterfinals against Highland. Unfortunately, they did not make it to the CIF finals due to a five-point loss against Dana Hills on Feb. 22, 2022.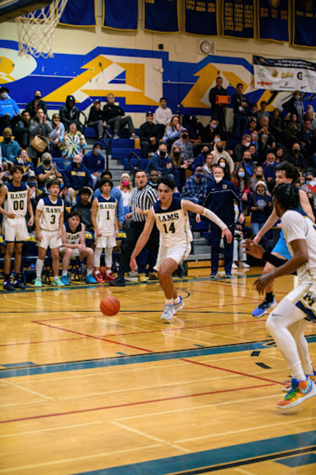 They had a rough start this season due to COVID and other "off-court things" according to the coach, Cutis Boyer. "They hit a stride and continued to make an eight-game win streak," says Boyer.
You can hear coach Boyer talk more about his team on an episode of the 562's podcast.
"We have a really good team and are finally hitting our goals now that we set before the season started," said Boyer. "I'm very proud of how the guys progressed as individuals and as a team to hit these goals." 
Although the team did not make the CIF finals, they still made it to the State championship. Their first game was on Tuesday, March 01, 2022. All future game schedules and scores will be available to see on Maxpreps. Wish the Rams good luck!