Girls Lacrosse Stepping it Up
The Millikan girls lacrosse team has had their ups and downs this year, but they pushed through by working as a team. The team hit a major bump in the road this year, when their previous two coaches left to take on different jobs, leaving them without a coach until the beginning of February, when walk-on coach Vanessa Humic took up that title.   
Even though the team was finally able to find a coach, they still had to go months without one. "Because we didn't have a coach, girls dropped the sport and a lot of us thought that we weren't going to have a season, which was hard because most of the team is seniors," says PEACE senior Ashley Kennedy.  
For those who stayed in the sport during the time when no coach was present, their first semester was spent training, thanks to a few Millikan seniors. Estrella Xelhuantzi, a senior in MBA, said that after a lot of the girls temporarily dropped the sport, "I got really annoyed and frustrated [so] I stepped up in trying to make the girls condition during seventh [period]. So when we were to get a coach, we would already be a step closer [to being ready]."  Xelhuantzi also stated that, "Delaney Haubert also stepped up in helping direct the team."
It's thanks to these girls taking up leadership roles in the team, plus the teamwork of everyone as a whole, that the Millikan girls lacrosse team is getting ready for their upcoming season. Their first game is away at Poly at 4:30 pm on March 17.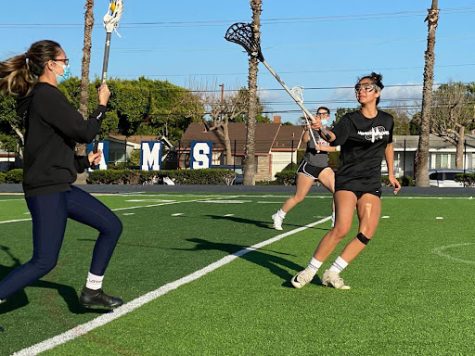 Their rocky start hasn't dampened the team's spirits, Xelhuantzi states, "If I'm being quite honest, I'm feeling a bit nervous, but excited, since it's my last year playing with my team.  It has been rough playing without a coach, and we've tried to make it work as a team. We might have our ups and downs, but at the end of the day we're all looking for that win at games."
Kennedy added, "Even though this year has been rough with trying to get a new coach, I think everyone will come together and try to have the best season we can. I think that not having a coach for so long has made us more determined to win games this season."
Make sure to wish the team the best during their season!  Let's show up to the Millikan girls lacrosse games to show our support!