The Sweetest Spots in Long Beach
If you're anything like me, you have a sweet tooth, and are constantly looking for a dessert worthy of it. There are many hot-spots in our city of Long Beach, however, if you're looking for the best of the best, here's the best list you may find. 
Gusto Bread- If you're looking for breakfast, Gusto Bread is the place to be! They sell delicious conchas, a Mexican sweet bread roll, that are tasty, but not too sweet for the morning. One concha is about $5, and they're quite big. Get there before 9:00 A.M., there tends to be a line. They also have cookies that are made with whole-grain, chocolate and sea salt! These are around $4. (An honorable mention to their bread- although it is not a dessert, it is just as delicious. Highly recommended!)
Cinnaholic- If you're looking and craving something sweeter, there is also Cinnaholic, on 2nd Street. Their speciality, cinnamon rolls, are definitely something everybody has to try at least once. They are fluffy and sweet, with just the right amount of cinnamon. Their frosting is unique, but is so delicious and creamy. They have many options and variety in cinnamon rolls, including ones with fruit and ones with cookies. You can also create and customize a cinnamon roll. They also offer edible cookie dough in the form of scoops and that are filled with delicious chocolate chips and soft, yummy cookie dough. Bringing water as both of these things are very sweet and the water is the perfect thing to help wash it down. Cinnaholic is an amazing place, and if in need of vegan snacks, they also offer vegan options! 
Afters- If you're a Long Beach native, you've probably heard of Afters. While essentially an ice cream place, they are most known for their specialty- a donut ice cream sandwich. It is essentially an ice cream sandwich, except with massive donuts instead of cookies. They have the option to choose any flavor of ice cream from the many options available, including flavors like Cookie Monster or Milk and Cereal. The donuts are soft and pair very well with any of the flavors of ice cream. It's a Long Beach staple.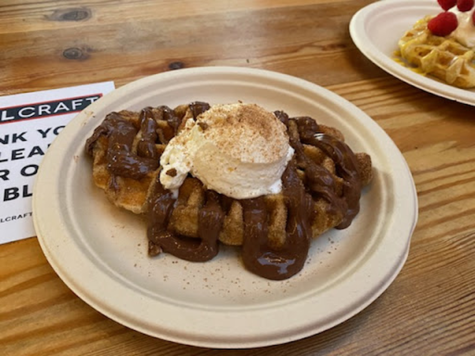 Waffle Love- Waffle Love is located at Steelcraft, a center with lots of food to try; however, Waffle Love is the one everyone has to try! They offer lots of options, both sweet and savory. The waffles are crispy on the outside, and fluffy on the inside. Their whipped cream is the perfect touch, and their unique options for toppings are sure to become a household favorite!
SomiSomi- SomiSomi is a delicious stop that specializes in soft serve, but more importantly, taiyaki . Taiyaki is a fish shaped pastry, usually filled with red-bean paste, however, SomiSomi also offers nutella, custard, cheddar, oreo or t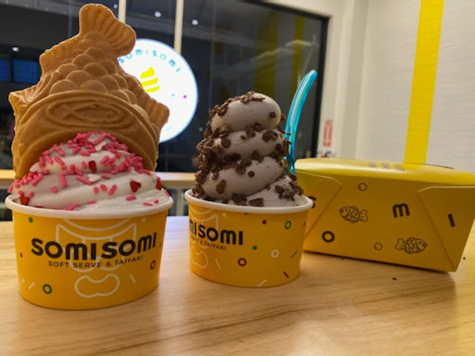 aro. Their most popular menu item is their ah-boong, in which the taiyaki is filled with a filling of your choice, but also topped with a soft serve flavor.