Millikan Tutors to the Rescue
Is that math class kicking your butt? Maybe there's just something missing from that English essay. Need to study for a history test? Just not quite grasping chemistry? Do not fear, Millikan Tutors are here!
Millikan hires their very own students as tutors in order to teach other students who may be struggling. The Millikan tutoring program first began around 2005, but only had teachers as tutors. By 2012, the peer-tutoring program evolved into what it is now.
In the February 2013 issue of the Millikan Corydon, Rachel Perry, a staff reporter states, "The program fosters a community feeling [through peer-tutoring] between students of all grade levels, SLCs, and academic levels."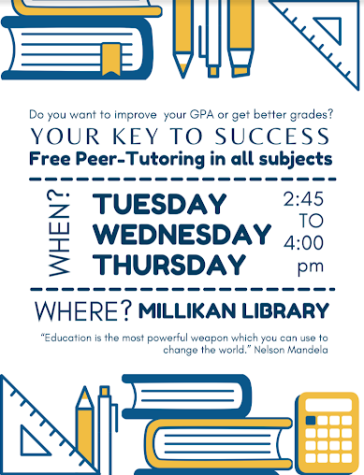 There are currently 10 tutors, however, there's always an opportunity to be hired as a tutor when the current tutors graduate.
"To find tutors, we ask teachers who they think would make a good candidate. Also, the tutors themselves recruit for the program. Once we have a pool of candidates, we look at course history and grades," Michael Prado, the Director of Tutors and Millikan English teacher says.
Prado states, "We offer free tutoring to everyone in nearly every subject that is taught at Millikan. We use a peer tutoring model that has been replicated throughout the district. Juniors and seniors, who have earned high grades consistently are able to share their expertise in content areas with their peers."
This free peer-tutoring opportunity is available in the library after school on Tuesdays, Wednesdays, and Thursdays from 2:45pm – 4:00pm. If you are interested in tutoring, show up after school to learn more.