Security Breaching Expectations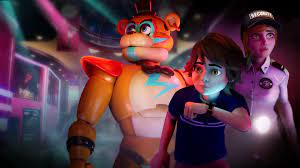 A long awaited continuation of an ever-going horror game Five Nights at Freddy's: Security Breach has been released this past December.
The game features Gregory, a kid who gets stuck in the Freddy Fazbear's Mega Pizzaplex, a giant animatronic themed mall. The mall's version of Freddy Fazbear, called Glamrock Freddy, has to help the player navigate the mall until 6 a.m. when the doors open to be able to leave. 
The game is a free roam game, which is different from previous games in the series. 
Many YouTubers like Markiplier have already uploaded footage of them trying out the new game. The game franchise carries an immense fan base among all ages. The series is not only for the enjoyment of playing it, but provides many clues into the storyline behind the game.
"I love games with a story and FNAF lore is  complicated enough so it makes it funny," says Izaiah Zaldivar, a PEACE senior. 
This new installment, which is the 8th of the series, has had both positive and negative reviews from die hard fans of the franchise. Some argue that the game was not ready to be released due to lack of play-testing, which is when people play through the game to look for errors before its release, since there have been many accounts of glitches in the game, but others are just excited for answers and the appearance of long awaited characters.
"Despite all of the technical problems, it's a fun game and a deviation from the rest of the FNAF series," says Zaldivar.
Scott Cawthorn is the developer of this series. His debut game was Five Nights at Freddy's, released in August 2014. The next game, FNAF 2, was released just months later, November 2014. FNAF 3 was released in March 2015, with FNAF 4 being released July 2015. The fifth one, called FNAF: Sister Location, was released October 2016. The next installment, Freddy Fazbear's Pizzeria, was released Dec 2017. FNAF: Help Wanted followed in May 2019, and finally, FNAF: Security Breach, released December 2021. However, FNAF: Security Breach was developed by Steel Wool Studios, not Cawthorn alone.
Anyone interested in playing the game can download it from Steam. It's currently being sold for $39.99.