A Night of SEGA Events
After spending the past year online, the Millikan Esports Club hosted its first in-person Super Smash Brothers Ultimate tournament of the school year on Dec. 3 in the library. 
"We primarily played online last year," says COMPASS Junior Matthew Martienz, who has been President of the Esports club since his Freshman year. "I feel like our club has come a long way in such a short amount of time. We've just been expanding and growing so much. It's really amazing to be a part of this."
Friday's Super Smash Bros. tournament lasted from 4 p.m. to 8:30 p.m. Members competed by playing in multiple one-on-one games in a bracket style elimination.
Students who lost their games were eliminated and sent to play in the Losers Bracket, while those who won advanced into the Winners Bracket until only two players were left for the final match.
"There's so much passion and excitement that comes from playing here," says Martienz. "It's super awesome to see."
At the same time, the SEGA Pathway hosted its first outdoor movie event of the year in the quad. Students watched Ready Player One and ate pizza together. During breaks and in between matches, many of the Esports players came outside to talk with the other students. 
"I love these kinds of events," says COMPASS junior Richard Brodsky. He helped to found the Esports club two years ago and comes regularly to SEGA events. "You get to meet so many new people and have fun." 
Most of the players were Millikan students, however, a handful of Lakewood and Stanford students were also invited.
"We like to scout out for new talent," says Martinez. He has high hopes for the future of Millikan's Esports Club. "Our ultimate goal is to expand this further than just a club. We're trying to get the funding and training to make this a full on sport."
While the Club founders are pushing to be more competitive, they still want the Club to remain welcoming to students from all skill-levels who are interested in Esports.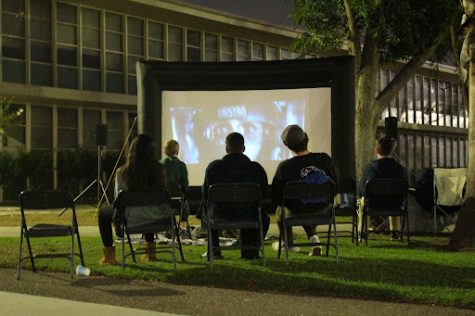 "Being able to offer space like this for these kids to feel like they're a part of something is really cool," says Grey Lange, the club's sponsor and Millikan French teacher. "I think that when you see the students play here, you can really see how confident they can become when they're in an environment that they're comfortable in. We want to continue to offer such an environment to them."
There are no current dates scheduled for the next Smash tournament, but the Club plans to host more matches in preparation for the Spring tournaments. Anyone who is interested in the club can contact them via their official Instagram account.