Best Buddies Caroling with Joy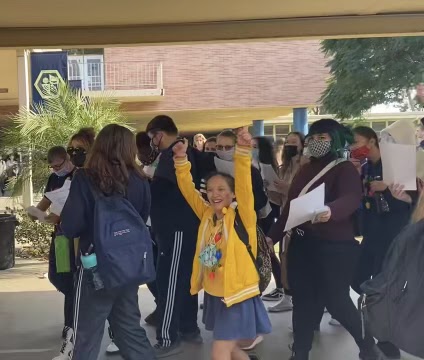 Spreading holiday cheer, the Best Buddies Club is celebrating the winter festivity. Best Buddies is an International nonprofit organization that, "…establish(es) a global volunteer movement that creates opportunities for one-to-one friendships, integrated employment and leadership development for people with intellectual and developmental disabilities (IDD)."
Last Wednesday, on Dec. 8, the Best Buddies Club could be seen caroling in the front office. It's been traditional for the club since three years ago.
"Best Buddies is a way to express inclusion and it means a lot in the world. There [aren't] a lot of clubs for them [students with IDD] to go without their peers or aides but in Best Buddies, it gives them comfort," Sophia Villicana, PEACE Senior and Best Buddies President says.
"For the holidays, we usually host a Christmas party [during the school day] and bring Santa. He gives the students presents. Students have conversations with each other and we play them mini-games like icebreakers so they socialize with each other. We also carol around the office."
The Club creates a peer-buddy program in which one student in the special education program  and the other student is in the general education population then they match them up and become friends – helping social skills, healthy friendship/relationships and positive academic outcomes.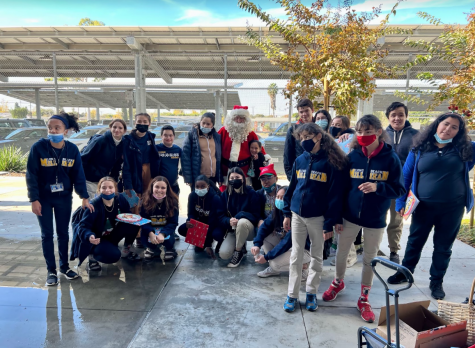 "The Christmas party [that took place on the 15th] helps the general education buddy see their special education buddy and hang out with them. It gives the buddies more time to get to know each other more personally," Villicana states.
COMPASS teacher and club advisor, Dina Weinberg says, "The celebration is important to the special education buddies because Santa is real [to them] and he's a spirit and dream to these students. Like this one, Jared Pfingsthorn likes best buddies and dancing. He's the sweetest young man to want as your friend. He likes to have Santa here."
Join the Best Buddies Club for an opportunity to get a life-long friendship. Best Buddies meets on Wednesdays in the small gym at lunch or visit Ms. Weinberg in room 551.