The Bell Who Cried Fire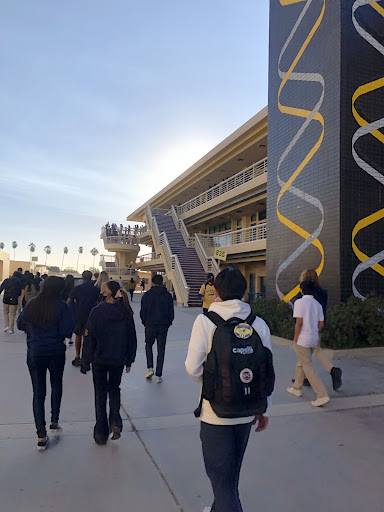 By Kezziah Hernandez
Co-Editor in Chief
The amount of false alarm fire bells we've had this school year have led students to take the alarms as bluff. Regardless of the incapability to identify a false alarm and a planned drill, having consistent inaccurate bells has made students not feel the need to follow through with fire regulations. These unexpected alarms went off September 7th, 21st, October 1st; 18th, (all during the second period). Later on the 18th, there was yet another false alarm during lunch. There have also been alarms after school while classes were not in session on September 7th at 3:00, the most recent fire alarm was on November 5th at the end of lunch the same day as the Great California ShakeOut.
"I feel like the false alarm fire bells are very disruptive to class time, as that could be used for getting work done," says Emma Morgan, an 11th grade QUEST student. She continues that teachers themselves don't follow through with regulations on the fire alarms due to their faultiness. "I feel like [following safety rules] depends on the teacher, if the teachers say we should stay, I would and if not I would follow their instructions. I would rather be safe than sorry, but I think this is all unnecessary, it should only be necessary if the fire is real." 
Kyle Heinrich, the Dean of Students says, "it is annoying, it is disruptive, and especially at a school this big, it's a lot of moving pieces getting kids out and getting kids back in. Ideally, we want to be prepared and want to know what to do in the event of a true genuine fire versus sitting around and waiting." 
In regards to the reasons for these false alarms, Heinrich, admin supporting emergency preparedness says, "Sometimes in the 800 buildings, it's science! [The smoke detectors] are super sensitive there. It could be the matter of science conducting an experiment, and that's where we see most of it. It hasn't happened this year but it could be the matter of someone just burning popcorn! Things like that could trigger it, with the new 1100 building it's a new system we [administration] are still trying to figure out that system." 
Heinrich wants students to know, "It is being taken seriously, as soon as they are set off and is being investigated immediately, we have panels to identify if it's coming from what building, whatever may trigger it we immediately pinpoint exactly where it's coming from and we fly into action and are grasping a better understanding of what's triggering them and what to look for. These false alarms are not being taken lightly by us by no means, I know teachers and students perhaps may be reluctant to evacuate, but we are scrambling like mad, it is a big liability, it's now become a safety issue, we got 3500 students, 150 teachers, lots of adults on campus we don't just brush it off like 'okay everyone just sit back and wait' we fly into action. We want to limit the amount of disruption, alot of times we see that these are false alarms but we shouldn't take these false alarms lightly, and everyone should be of the mindset of we must evacuate rather its genuine or false we need to do what we've been trained to do within procedures and protocols. To know our safest routes, alternatives routes, things we must consider in emergencies." 
"If we were negligent on that front I couldn't live with myself or get sleep at night knowing I didn't do everything I could to provide the safest environment for everyone here on campus in other things besides fire drills or false alarms, I want to take in consideration every possible emergency here on campus." 
Millikan should be appreciative of the sensitive fire alarms because although the bells' faulty alarms waste class time, it's safer to have working delicate alarms that will warn you of a danger than to have an alarm unable to detect any smoke on campus. And as Heinrich said, we must all have that mindset to do what we were trained to do for our safety. 
"In my 27 years, knock on wood, I've never had to experience a real fire, it has always been a drill or false alarm and let's keep it that way." 
Photo of fire extinguisher