Veniamo Italia!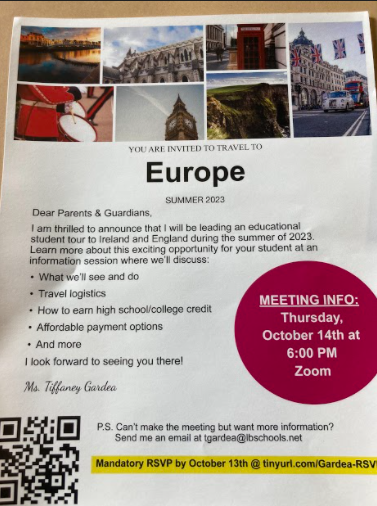 Eva Goddard
Copy Editor
The ancient coliseums of Rome and the glistening canals of Venice are great landmarks that students could be experiencing if they sign up for the Italy trip next summer. 
The trip itself is in the summer of 2022, but sign ups will be due about 60 days before takeoff. 
To sign up for the trip or get more information, students can visit the EF Tours website. 
"Anybody has the opportunity to go, even students who don't attend [our school]," says Tiffany Gardea, who is currently in charge of managing the trip.
This trip is a 10-day experience across the grand country of Italy. Students will begin in Milan, then travel to Venice, Florence, Assisi, Pompeii, Sorrento, and finally Rome. They get to experience life in this country as well as see different demonstrations of art creation.
Along with Italy, other trips are being hosted for interested travellers.
In 2022, a trip to Peru that includes a Service Learning component will be hosted. 
"In 2023, it's gonna be England, Ireland, and Paris," adds Gardea. These destinations are all combined in one eleven day trip.
If money is an issue, the company, EF Educational Tours, provides a page for students' families and friends to donate and fund their experience.
In full transparency, Eva Goddard, reporter of this story, is attending the trip herself.