How Enchant(ing) It Was
For the past three months, Millikan Fashion students have dedicated their time to designing and creating outfits for their seventh annual Spring Fashion Show, this year entitled–Enchanted! "Enchanted brought lots of fairies, forests, twinkle lights, greens, periwinkle, and everything else mystical to the runway," says Mrs. Palsgrove, the visual arts, fashion, and AP studio art teacher at Millikan. Along with that theme, there was endless freedom to create garments in all sorts of categories that Palsgrove let the students choose from including subjects such as Self Expression, Diversity World Culture, Imagination, and Trend Blend. 
The fashion show premiered on May 19 at 7:00 p.m. at Millikan's Open House.
Due to COVID-19, Millikan has not had a fashion show since the 2018-2019 school year, but since then, the fashion students have come a long way in their creativity and skills to put on a show exceeding standards. "Seeing kids come from zero experience to kids who have done above and beyond and become real passionate about fashion is just amazing. There are many kids doing even more than to put on a show better than ever," says Palsgrove. 
The fashion show embodied everyone around campus and even more. It is stereotypical that only COMPASS students were participating and the models had to be tall and skinny, but that was not the case at all. Palsgrove says, "We invited and embraced everyone of all genders and all figures. It's so inclusive." Students in other pathways, parents, little kids, and students from other schools put in time and effort to present their designer's outfits.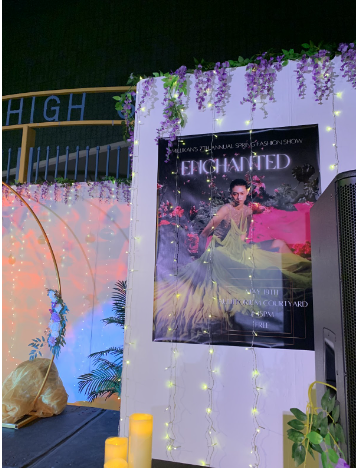 There were also designer winners chosen by judges who have a big role in the fashion industry! Fashion students were rewarded for their dedication and hard work in many different categories whether it was hair and makeup, cleanest seams, top model, etc. Most importantly, let's give a round of applause to Advanced Fashion student, senior in COMPASS, Maddy Henriquez for Designer of the Year! Her collection was above and beyond creative.
Each year, the annual fashion show has been well attended, but because it was the first in three years, it had its challenges. "This was the hardest show to produce. [It] seemed like there were roadblocks and obstacles every step along the way. But you know what, this show was the most rewarding. It feels the most triumphant. I've never been prouder of my students," says Palsgrove.