Randomized Searches
Since March, there have been an increasing number of randomized, full-class searches. 
While this may be the first time you've heard of these searches, Millikan's Campus Safety Officers (CSOs) and administrators have been conducting full-class searches at Millikan for years. After a pandemic-induced hiatus, the searches are just now picking up again. 
"This year [searches have] not been as frequent, and I think the first semester was just trying to get all of the kids back in [to school]. That's why it feels like they're doing [searches] more because they've started to do it this semester," social justice teacher Mrs. Gutierrez says.  
Mr. Heinrich, the Dean of Students, declined an interview on the issue, but MBA Assistant Principal Ms. Filer and COMPASS Assistant Principal Mr. Ashley were available.
"We want to make sure that there are no drugs or weapons on campus, so safety concerns of course are what prompts them. Our plan is to do them once a week, but it doesn't necessarily always happen," Filer says.
When it comes to the classroom randomization process, it is unbiased. "We pull out a classroom to search [from a Ziploc bag with a slip of every class number]." Yes. It really is just a Ziploc Bag. "It is a random search. We have all the classroom numbers in one place," Filer assures.
The only structured part is the scheduled class periods at which the searches take place. "The period is not random. We want to make sure we spread [searches] throughout different times of the day, so we design a schedule that tells us what period is next," Ashley says. "In order to organize our resources and make sure people are available, we have those dates and times already scheduled for the rest of the year." 
As for the procedure of the searches, the approach is consistent every time. "An administrator walks in and usually announces that it's a random search. We say we don't want people to move so they don't put things in different places. We have the CSOs outside so [the searches are] not happening inside the classroom," Filer says.
One by one, students are patted down while their backpacks or gym bags are searched. After the process is complete, the CSOs decide whether the students are allowed to return back to class, where they are given paperwork to take home to their parents.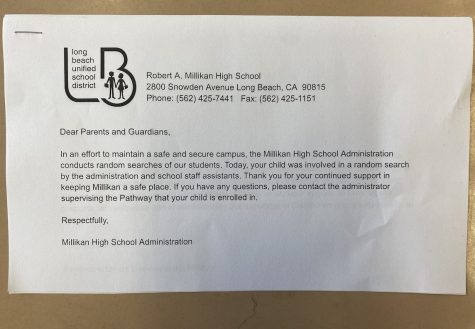 Millikan received guidelines regarding searches from the district, which are publicly available on LBUSD's website. 
"The main issue is safety," Filer says. "With everything going on in the news today it is a good thing to make sure that everyone on campus is safe." 
Overall, the randomized class searches are precautionary measures for the well-being of students and staff, which is everyone's main priority.